Last year we have made a test of CCTV design software . Our choice was a nice software called IP Video System Design Tool from JVSG
This software is really helpful and saved us a lot of time in our CCTV consulting work.
Last year we asked JVSG to make a special lite version of CCTV Lens calculator and bandwidth&storage tool for our website (now this offer unfortunately is over). More than 10 000 our visitors have downloaded and started to using this CCTV design software to design their CCTV systems more efficiently.
Small description and screenshots from www.jvsg.com:
Using IP Video System Design Tool you can:
Calculate precise CCTV camera viewing angles and lens focal length in seconds and get the drawing of FOV.
Get estimations of required disk storage space and network bandwidth for IP video systems using different options. You can see how changing a few values can really impact the whole system design.
Using Save/Load functions you have access to all last calculations.
Support of multiple cameras – you can calculate systems with unlimited number of network cameras or IP video servers.
Screenshots: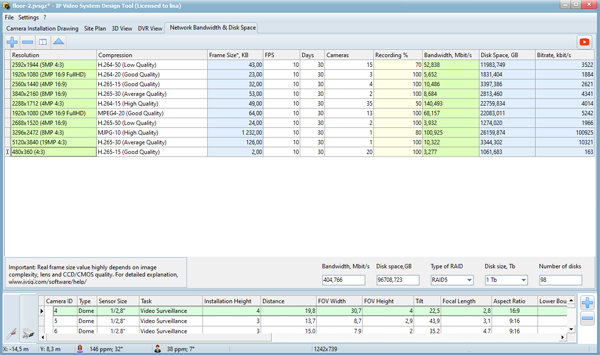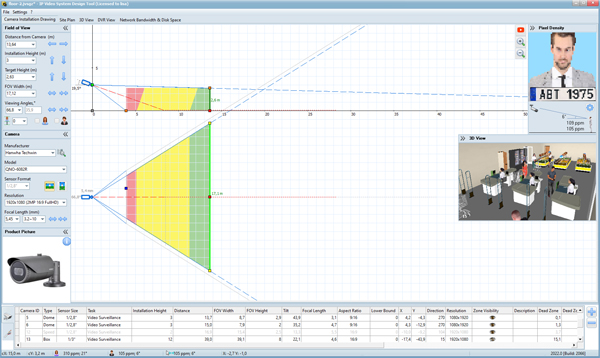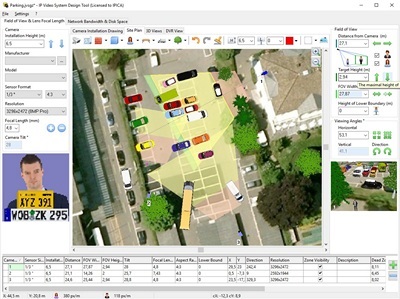 Download [3MB, ZIP]
Read more about IP video design software
If you need to calculate a required network traffic and storage space or lens focal length for your video surveillance system and you get tired of ugly online calculators, than this software tool is for you.
IP Camera Bandwidth & Disk Space Calculator lets you to calculate required network traffic and storage space for your network camera based video surveillance system.
Just select a resolution and compression level of your network IP camera (or your CCTV camera connected to DVR) , enter required FPS and number of cameras and the calculator will calculate required bandwidth.
If you specify for how long your video records have to be stored (1 day= 24 hours of recording) the tool will give you required HDD storage space.
This software tool is a great companion tool for video monitoring software.
Why this software is better in compare with online calculators? Our offline calculator is faster, has more convenient user interface and doesn't need a internet connection.
Important! Frame size, calculated for specified resolution and compression is an estimated value. Real frame size value highly depends on image complexity, lens and CCD/CMOS quality.
For detailed explanation, please visit: http://www.video-home-surveillance.com/ipcameracalc/
New feature of the calculator is calculation of lens focal length. Just enter viewing angle and CCD/CMOS sensor size and get focal length.
There are few important factors you should consider during "IP Video System Desing Tool" usage.
Frame size value calculated by this software is an estimated value.
In real life IP camrea needs more bandwidth in compare with theoretic value.
FrameSize
When you specify camera resolution and compression level you get just an estimated value of the Frame Size. In real life your camera's frame size can be twice bigger or smaller.
The frame size depends on
Image complexity – Frame size can vary from 40% to 230%
Lens quality – Higher quality – bigger frame size
Illumination – With low light – smaller frame size
Noise – more noise – bigger size
To make a more precise calculations you have to make an experiment with your camera in its typical conditions and then put average result in the FrameSize column.
Practical Bandwidth
When you use 100 Mbps(Megabits per second) network it doesn't mean the network allows 10 streams of 10 Mbps.
Real practical bandwidth value is always smaller.
| | |
| --- | --- |
| Network Type | Practical Bandwidth Value |
| Ethernet 10 Mbps | ~ 7 Mbps |
| Ethernet 100 Mbps | ~ 60 Mbps |
| Ethernet 1000 Mbps | < 500 Mbps |
| WIFI 802.11b 6 Mpbs | ~ 4-5 Mbps |
| WIFI 802.11g 54 Mbps | ~ 13-24 Mbps |
Also some manufacturers of IP cameras , like AXIS recomend to reserve 30% additional bandwidth for future expansion of your video surveillance system.