In this article we will cover main CCTV design principles and will say a few words about a useful software tool for making optimal CCTV layout, calculating camera coverage and finding optimal CCTV lens .
There are many different factors to take into consideration while designing a good CCTV system.
Usually, the CCTV designer starts with a floor plan or site map with notes from the customer, where the system should provide sufficient image quality for identification, recognition, detection and monitoring of possible intruders or own personnel.
In order to complete CCTV project the CCTV designer needs to find out number of required cameras, good camera locations, camera resolution and lens focal length.
Quite often vague customer specifications add to the additional complexity of finding the optimal CCTV solution, which leads to reputation issues, and waisted money and time.
Using "IP Video System Design Tool" software, the CCTV designer can entrust the boring job to his or her computer and ease the project coordination and documentation process.
The CCTV designer can import site/floor plan as a background image. After that new cameras can be added and parameters like installation height, field of view, lens focal length or angle of view be changed while having a 3D model from selected camera in the "3D Preview" window.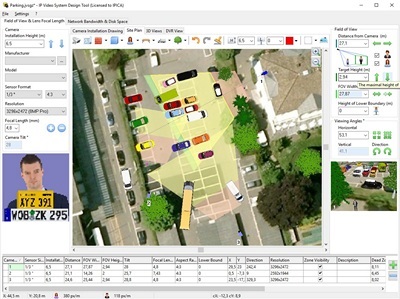 The software has internal focal length calculator , that shows the required lens focal length for given field of view and distance.
The program displays areas using different colors where the camera resolution is sufficient for the purposes of identification (red), recognition (yellow), detection (green) and monitoring (blue) of people.
In the bottom of the screen the software shows target resolution in pixels per foot or pixels per meter.
In case, the CCTV designer sees the current camera resolution is not sufficient for the customer's purpose, he or she can make camera angle of view narrower, decrease camera installation height or choose a different camera model with higher resolution.
In addition, the software can also estimate network traffic for IP cameras and video archive size to find number and size of HDD for video storage.
Hence for the above reasons, IP Video System Design Tool is certainly a good tool for better CCTV design .
Remote monitoring: +
Motion detection: +, with detection zones
Zone Minder is an open source video surveillance software for Linux.
It has PHP based web interface. The web-interface is used for video monitoring as well as for modification of system parameters. This can be done even from remote place.
Motion detection is not too advanced, but it is sufficient for most of simple applications. To adjust the motion detector for each zone you can specify Min/Max Alarmed Area – a number of pixels that would cause an alarm. Also you can and number and size of "blobs" – groups of pixels.
Zone Minder supports PTZ functions and has some scripting capabilities. Software uses MySQL to store its configuration.
Conclusion: This is a surprisingly good home video surveillance software for free open source product. In case if you plan to use Linux we recommend to have a look on it. It is sad, but there is no such free open-source software for Microsoft Windows platform, but there are plenty of affordable ones in our software reviews
We choose our test configuration for our IP video tests with these ideas:
Video cameras should be network IP cameras, because it is true digital and modern and easy to install at home.
Brand of network cameras should be well known, and supported in most of network surveillance video management software. We have started from Axis – the first budget network ip cameras manufacturer.
First PC should be not really fast and should have a cheap price.
Second PC should be fast enough for bigger surveillance systems.
To calculate network bandwidth we used JVSG IP Camera Calculator
So for our test we have taken the following configuration:
Network cameras

Network cameras: Axis 206 and Axis207MW, (640*480, 1280×1024), AXIS 210, AXIS 211
IP cameras: Axis 213, Axis 214 with PTZ, AXIS 212
Panasonic I-Pro cameras: WV-NP1000, WV-NS202
IP camera DLink 950, DLink 6620G
Megapixel IP camera Mobotix M10, D22
Megapixel IP camera IQEYE 601
USB camera: Logitech, 640*480

PC

Intel Pentium 2,4 GHz (HT off), 512 MB
Intel Core 2 DUO 2,6 GHz, 1 GB
OS: Windows XP Pro, Service Pack 2

Network card

Intel integrated 1000 mbit
See our software reviews
Let's see how home surveillance software works with 1.3 MegaPixel Axis 206M.
This 230 Euro network camera gives out 12 FPS at resolution 1280×1024 pixels.
Let's see how home surveillance software works with 1.3 MegaPixel Axis 206M.
This 230 Euro network camera gives out 12 FPS at resolution 1280×1024 pixels.
It uses ½ inch CMOS sensor with 32bit-RISC processor, 16MB RAM and 4 MB flash memory. Objective parameters: 10mm F2.8.
So what have got here:
The lowest load has an alfa-version of NetVisus IntelliGuard Pro. It has shown a load of 40%, but we cannot rate any alfa or beta versions. So we didn't include this result in the result table.
The second leader is Netcam Center. It was not tested in our previous 4 cameras test because of demo version limitation. In this test it has shown 44% processor load.
The old leader in 3 cameras test – iCatcher console have shown quite average results 75%.
Also in this test we were unable to measure WebcamXP processor load because the current version we have (2.20.0.24) doesn't work with Axis 206M in MJPEG mode.
We have not test IVista from inetcam.com because of the demo version limitations – in the demo version of IVISTA all network cameras are disabled.
| | |
| --- | --- |
| Software | Processor load |
| NetCam Center (ver: 2.10) | 44 % |
| iCatcher (ver: 2.3.0.7) | 75% |
| ActiveWebcam (ver: 6.6.0.0) | 81% – 100% |
| NetcamWatcher Pro (ver: 1.7.5.33) | 88% |
| WebcamXP (ver: 2.20.0.24) | not tested |
| IVista (ver: 4.1.0.0) | not tested |
| NetVisus IntelliGuard (ver: 0.9.0.0) | not rated |
What does it say:
If you want to add even one 1.3 megapixel camera to your home surveillance system and you don't have a powerful PC you need to upgrade your processor. Intel P4 2.4 GHz is definitely not enought!
Plenty of software products from our video surveillancetop 20 does not support network cameras.
Therefore we can not make performance test for these products with our network cameras.
This is why the products have not got a high rating in our home surveillance software comparation.
But if you need just a really simple home surveillance system, you can have a look on reviews and demos of following software:
Watcher from DigiWatcher
CoffeCup Webcam
ConquerCam
WebCamera Security System from Dreamstruct
Test result are shown in I Catcher Console review section