In this article we will cover main CCTV design principles and will say a few words about a useful software tool for making optimal CCTV layout, calculating camera coverage and finding optimal CCTV lens .
There are many different factors to take into consideration while designing a good CCTV system.
Usually, the CCTV designer starts with a floor plan or site map with notes from the customer, where the system should provide sufficient image quality for identification, recognition, detection and monitoring of possible intruders or own personnel.
In order to complete CCTV project the CCTV designer needs to find out number of required cameras, good camera locations, camera resolution and lens focal length.
Quite often vague customer specifications add to the additional complexity of finding the optimal CCTV solution, which leads to reputation issues, and waisted money and time.
Using "IP Video System Design Tool" software, the CCTV designer can entrust the boring job to his or her computer and ease the project coordination and documentation process.
The CCTV designer can import site/floor plan as a background image. After that new cameras can be added and parameters like installation height, field of view, lens focal length or angle of view be changed while having a 3D model from selected camera in the "3D Preview" window.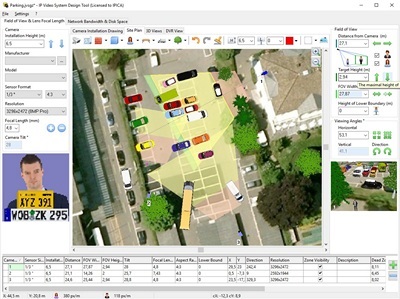 The software has internal focal length calculator , that shows the required lens focal length for given field of view and distance.
The program displays areas using different colors where the camera resolution is sufficient for the purposes of identification (red), recognition (yellow), detection (green) and monitoring (blue) of people.
In the bottom of the screen the software shows target resolution in pixels per foot or pixels per meter.
In case, the CCTV designer sees the current camera resolution is not sufficient for the customer's purpose, he or she can make camera angle of view narrower, decrease camera installation height or choose a different camera model with higher resolution.
In addition, the software can also estimate network traffic for IP cameras and video archive size to find number and size of HDD for video storage.
Hence for the above reasons, IP Video System Design Tool is certainly a good tool for better CCTV design .